Tea Time With Friends: Hosting a Crowd Pleaser Tea Party
Tea Time With Friends: Hosting a Crowd Pleaser Tea Party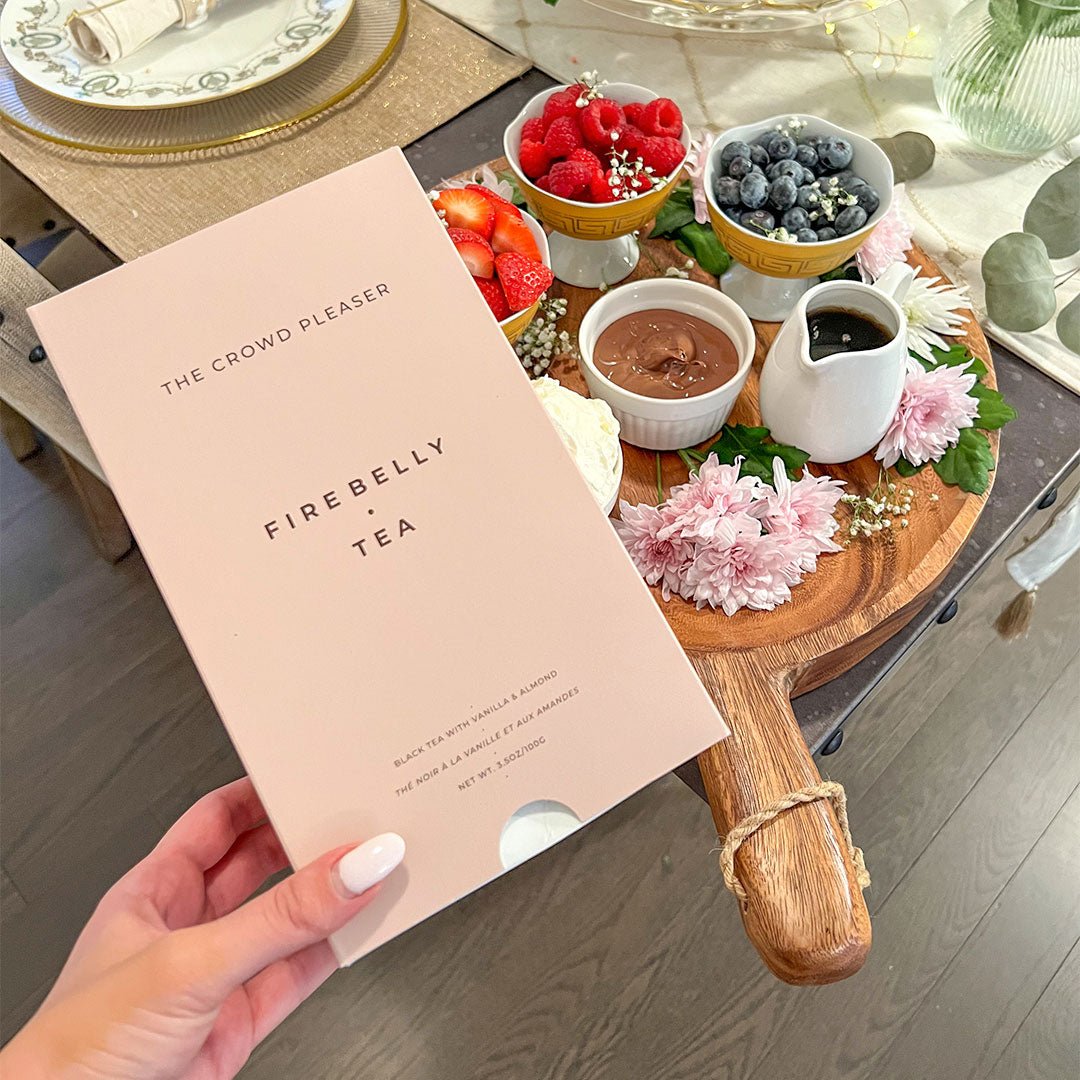 Tea parties are not only for posh ladies, grannies, little girls, and their dolls, or the British - everyone can enjoy afternoon tea in style. For centuries, the English working class has understood the importance of making tea time a special occasion every day. These days, people worldwide have caught on to the trend of high tea.
If you're thinking of hosting a tea party, this ultimate guide will help you with everything you need to know to host a tea party your guests will remember. It will explain why you should host a tea party, give tips on setting it up, and recommend foods you can serve. It will also guide you on what teas you should serve and some themed tea party ideas.
Why You Should Host a Tea Party
Who needs a reason to have fun? And tea parties are a ton of fun! But if you feel that you need an occasion to host a tea party, here are some ideas:
For a baby shower.

For a bridal shower.

Sunday brunch.

A book club (or any other club) meeting.

Birthdays.

Valentine's Day.

Engagement party.

Family reunion.

Any other occasion!
It doesn't matter what you have to celebrate, a tea party with good friends is always an excellent idea.
Setting Up a Tea Party
When you set up a tea party, it's a little more than getting some food together and putting it out on a table with teacups, saucers, and a teapot or two. The good news is that you can keep it as simple as you like, have a formal event with fancy decorations and china, or go wild with a themed tea party.
It's possible to have a fantastic tea party, even with a smaller budget. These handy guidelines will help you to set up your crowd-pleasing tea party for every budget:
#1. China: Ensure you have enough tea pots and tea cups for everyone
If you have a tea set or two that you'd like to use, and it's only a small guest list, this part is easy! But if you're hosting a bigger tea party and don't have enough china, don't worry; you won't have to break the bank!
You can shop around at thrift stores or church bazaars for vintage tea cups and other china. If you don't have a thrift store nearby, borrow some from a friend or family member. China doesn't have to match; afternoon teas can be as informal or formal as you like.
#2. Small serving plates
Small serving plates are yet another item you can get from a thrift store! Although you can let guests help themselves to teatime treats on their saucers, having small serving plates on the table is a nice touch. It makes it easier for them to help themselves to various treats and then sit back and relax as they enjoy your tea party.
#3. Get creative with serving food on decorated platters
Many tea rooms use fancy tiered cake stands to serve high tea traditionally. If you don't have cake stands, use an attractive serving platter or decorate regular platters to show off your tea sandwiches and treats.
You can use food-safe greenery, small sweets, fruits like grapes or berries, nuts, or edible flowers. Or you can turn your treats into decorations, for example, different-shaped tea sandwiches, pretty mini fruit tarts, fancy decorated cookies, and petit fours.
#4. Fresh flowers
A table at a tea party is only complete with a fresh flower arrangement. If it's in season, pick some and place them in an attractive pot, or order a floral arrangement for the event. Whatever your taste and budget allow, fresh flowers are a must at any tea party.
For a little extra charm, take one or two blooms from your table arrangement, and place them in a small vase in the bathroom. Another idea is to scatter greenery and blooms on the table as a decoration. It will give your tea party a fresh, garden vibe.
#5. A space for every guest to sit
Although some people will enjoy standing around and chatting, it's vital to ensure there's ample seating for everyone so they can sit down and enjoy their food. Ensure the space is well-ventilated in warmer months and heated during colder months. It's essential to make your guests feel comfortable from the moment they arrive.
These are the basics of setting up a tea party. Now let's dive into the details.
What You Need to Know About Food at Tea Parties
What's on your tea party menu? Some of the most popular traditional tea party dishes are baked goods and finger sandwiches presented buffet style. But you don't have to be limited to traditional tea party fare; there's a whole universe of sweet and savory foods to choose from when serving tea.
The trick to an extraordinary event is not only in how it tastes but also in how you offer your guests the treats you've prepared. Everything on your table should be beautiful and varied. Food can also be tea party decorations! Here are the top three rules for creating a beautiful table for an afternoon tea party:
There should be enough space on each platter for every item to fit.

Everything should be easy to pick up by hand.

Treats should be bite-sized or a little larger.
Most traditional tea parties happen mid-to-late afternoon and should not replace a meal. Here are some ideas of dishes you can put on your afternoon tea party menu:
Finger sandwiches. You can stick to tradition and make these crustless cucumber sandwiches or mix it up with savory treats like goat cheese tartlets, bruschettas, or cheddar cheese quiches.

Scones with clotted cream or butter and jam in different flavors. Scones are an essential menu item!

Cakes and cookies, for example, petit fours, miniature cupcakes, fruit or jam tartlets, and millionaires shortbread.

Sweets like handmade chocolate truffles, strawberries dipped in chocolate, macarons, and mini baklavas.
Plan on at least two savory items, scones, cakes, and sweets per person. If you love baking, you'll be in your element. If you don't, you don't have to make everything from scratch; you can order some specialty items from a local bakery and make the tea sandwiches yourself or order everything.
Another option is to arrange your tea party in a tea room. Many tea rooms offer various food and tea options and even take care of the decorations. All you'd have to do is show up, wait until the guests arrive, and enjoy your time (and tea!)
What's The Best Tea For a Tea Party?
You should have at least two types of tea for guests to enjoy, one caffeinated and one herbal option. Earl Grey is a popular choice at most tea parties. Traditionally, it's served with a slice of lemon and some sugar, but some people prefer this blend with milk or cream. Peppermint tea is a refreshing herbal tea choice, and chamomile is a floral and relaxing option.
Whatever blends you choose, serve them with lemon slices, sugar cubes, and a selection of cream or milk options. Loose tea is always a better option if you're wondering whether you should use tea bags or loose-leaf tea. It's more flavorful and has more health benefits than most tea bags. Here are some great teas and blends you can use to make your party a winner!
If you're hosting a small party and have enough infusers for everyone, you could offer a selection of loose-leaf teas and hot water so everyone can help themselves to their favorite blends. It gives them control over the strength and flavor of every cup instead of whatever tea is brewing in the pot. Infusers are relatively inexpensive and so much better than a tea bag in hot water.
For larger parties, keep the tea flowing by brewing a new batch with fresh loose-leaf tea and hot water as soon as the pot is finished. Or, if your afternoon tea is on a hot summer day, brew up a delicious iced tea selection and serve it in mason jars.
Of course, you can also offer your guests sparkling wine or tea cocktails at an adult tea party. Although it's not traditional, it's your event, and you can put anything you like on the menu!
Making Your Tea Party Memorable
If you want your tea party to leave a lasting impression on your friends, here are some fun ideas:
Make your guests feel special with a guest book
A guest book is always a lovely keepsake. It also makes your guests feel like you're honored to entertain them.
Play games
Set up some game tables with checkers, chess, and Scrabble. It's an excellent way to entertain guests as you serve tea.
A little parting gift goes a long way
Give your guests a sweet reminder of the day with a parting gift. A small succulent, a vintage teaspoon, a small jar of jam, a scented candle in a mini tea cup, the infuser or cup they were using, or a small tin of loose tea are all excellent parting gifts for a tea party.
Themed Tea Party Ideas
If you want to host a themed tea party, here are some ideas:
Victorian-era. You can play olden-day parlor games while you enjoy Victorian-era treats like mini Victorian sponges and a selection of crustless sandwiches.

Fairytale. The decoration options for this theme are endless!

Alice in Wonderland. From colorful sugar cubes to big hats and other fancy dress outfits, this theme could get a little crazy, and that's just how you'd want it!

Downton Abbey. Fans of the tv show would love classic British fares like mini sausage rolls and lemon tarts. Take some time for a game or two of Downton Abbey trivia.

Modern-day British royalty. Pearl jewelry on and pinky fingers up, everyone!
Ready For Afternoon Tea?
Whether you like the idea of high tea with scones and clotted cream or an elegant affair with sparkling wine and tea, there are endless options for hosting your own tea party. With the tips, tricks, and ideas in this ultimate guide, you're set to host the best tea party.
So get your tea set and send those invitations out. It's (tea) party time!