How to Make a Strawberry and Honey-Infused Matcha Latte
How to Make a Strawberry and Honey-Infused Matcha Latte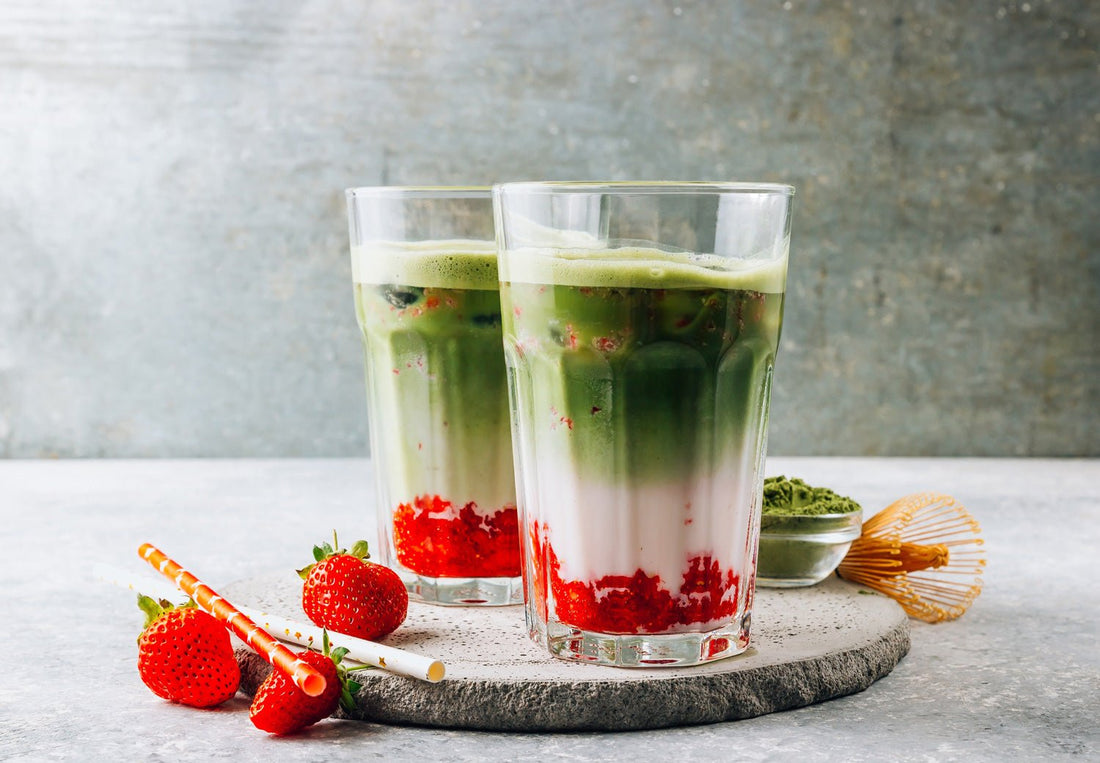 The only thing better than a matcha latte is an iced, strawberry & honey-infused matcha latte! ⁠As you may already know, we love matcha around here - it's filled with many delicious nutrients that promote a smooth, feel-good boost of energy. And with strawberries being in their peak season right now, it's the perfect beverage for these warm Summer days.
What makes this drink so great is that it's further powered up with raw honey. Did you know that eating unfiltered, unheated, raw honey produced within your area, (50-mile radius or less) is like receiving a natural anti-allergy shot? Quercetin, a component of honey, has been found in studies to reduce inflammation and pollen allergy symptoms. It stabilizes the cell membranes that release histamine, which triggers allergic reactions. Natural is incredible, right? Raw honey also contains bee pollen and bee propolis, which boosts the immune system, and builds immunity to allergens. This, in addition to all the power that matcha and strawberries bring, makes for a match(a) made in latte heaven! 
Ingredients 
Yields one drink
½ cup fresh strawberries, sliced⁠

 1 tbsp raw honey⁠ (or to taste) 

1 tsp

All Matcha

1 cup milk or milk alternative

1 cup of ice⁠

Instructions
Make your matcha
Boil your water, but then take the lid off and let it cool until there's no more steam coming off the (or 75 degrees Celsius and 170 degrees Fahrenheit). Add your matcha. Remember, with matcha tea you want your water to be a little bit cooler. This is the difference between having it taste amazing, and it has a bitter taste. Then, fill the cup about halfway up and whisk it until the powder dissolves. Set it aside.
Muddle strawberries and raw honey
In your favorite tall glass, add strawberries and raw honey. Use a muddler or spoon to mash the strawberries into a saucy consistency. 
Top with ice 
Add your choice of milk 
Add your matcha
Stir it up, snap a pic, take a sip, and enjoy!⁠
Description
Fresh, earthy green tea with a hint of sweet umami and an amazing, natural creaminess (we promise no cows were bothered in the creation of this tea).
1.06oz/30g
Ingredients
100% Ceremonial-grade Japanese Matcha Tea.
Benefits
Matcha is high in antioxidants which may reduce cell damage and help prevent diseases.

Green tea is well known for its ability to enhance weight loss.

Matcha tea helps improve focus and boosts brain function and who doesn't want that?
Learn more and buy some matcha today, at firebellytea.com.