Shades of Earl Grey
Authentic Earl Grey flavor made with real bergamot peel.
Delivers smooth, sustained energy with no crash or jitters.
Crafted with 100% pure ingredients. No added sugar, flavorings, preservatives, or anything else.
Antioxidants protect cells and promote longterm wellness.
Makes 25-30 cups.
Wake Up Essentials
Choice of caffeinated tea & Tea Strainer with black resting cup
$39.95 USD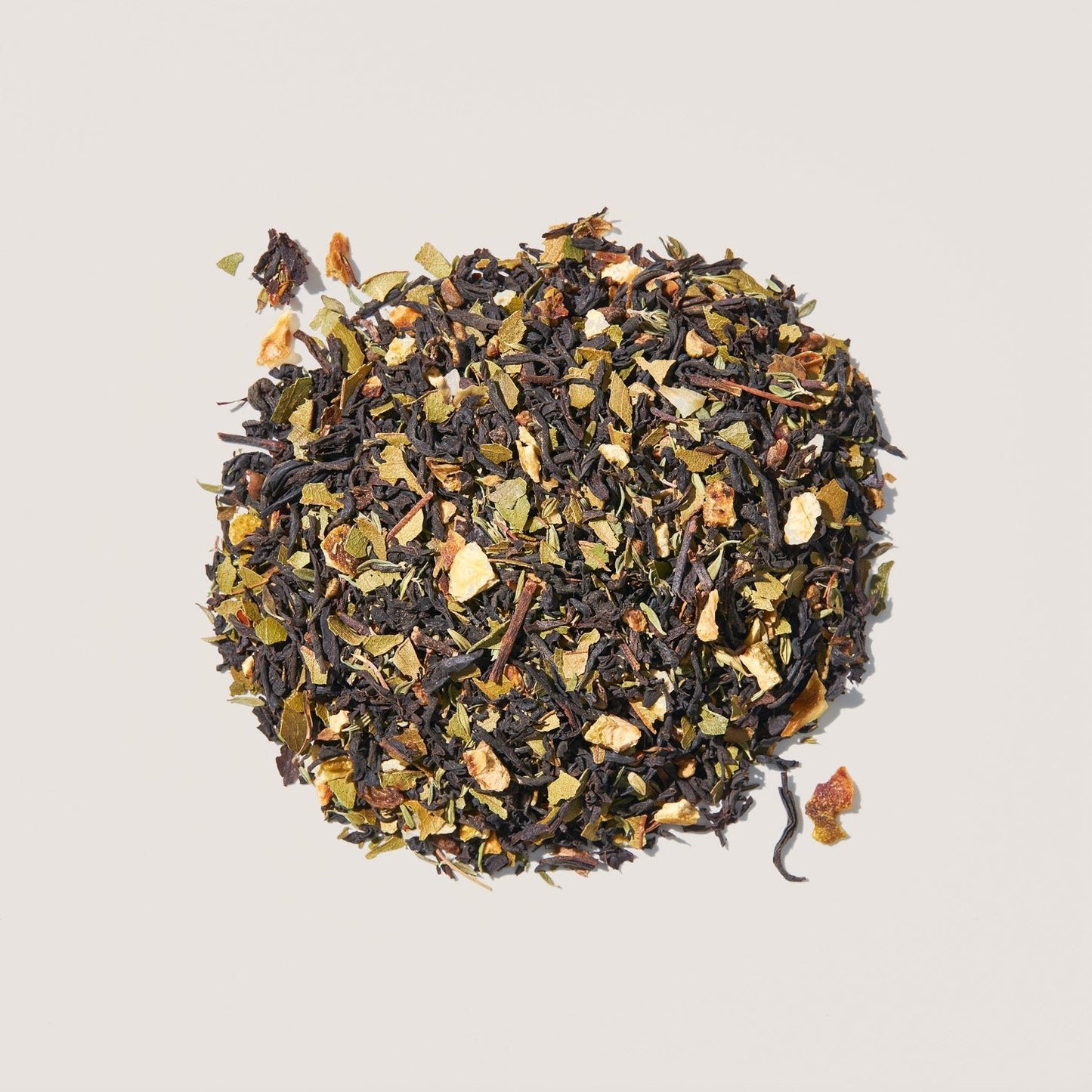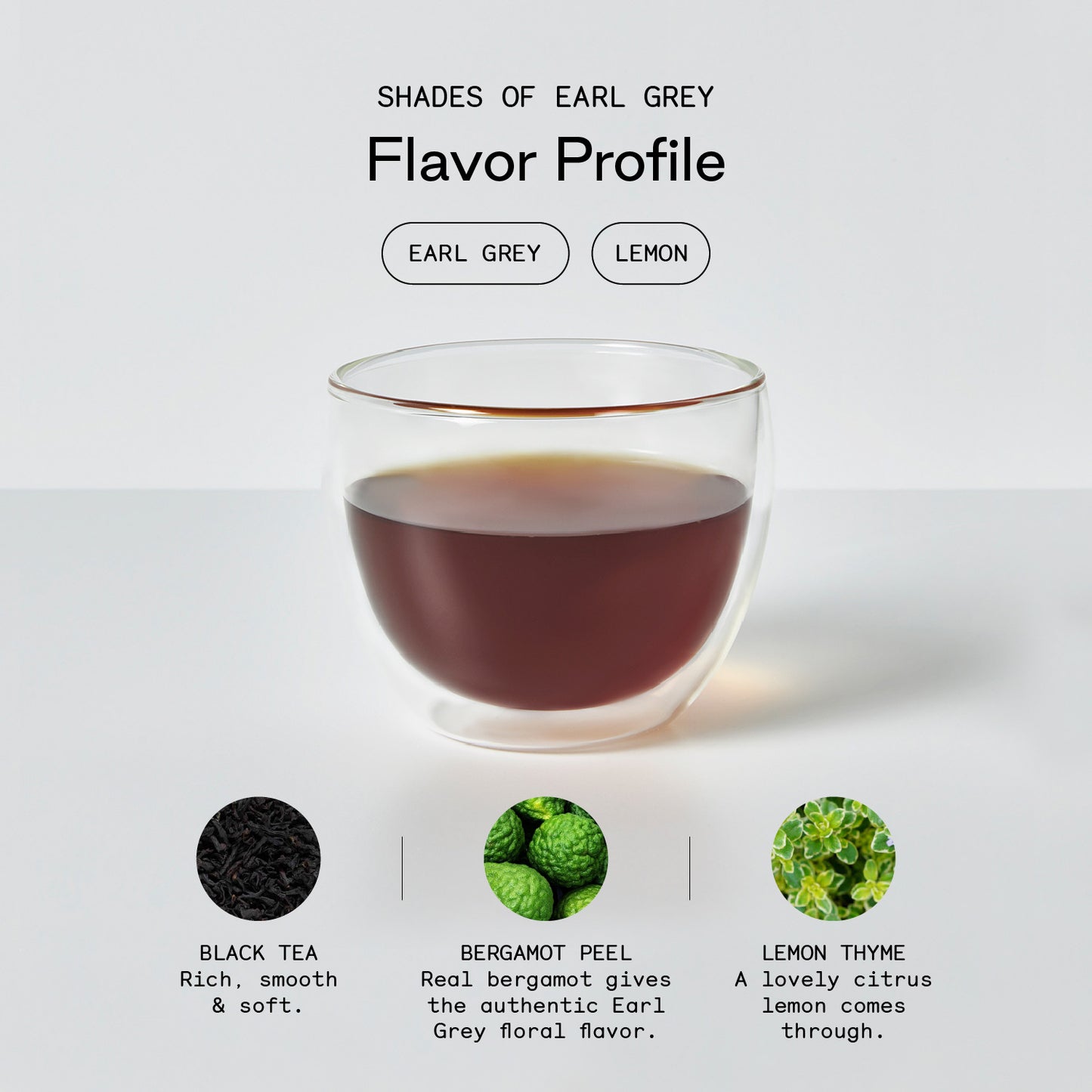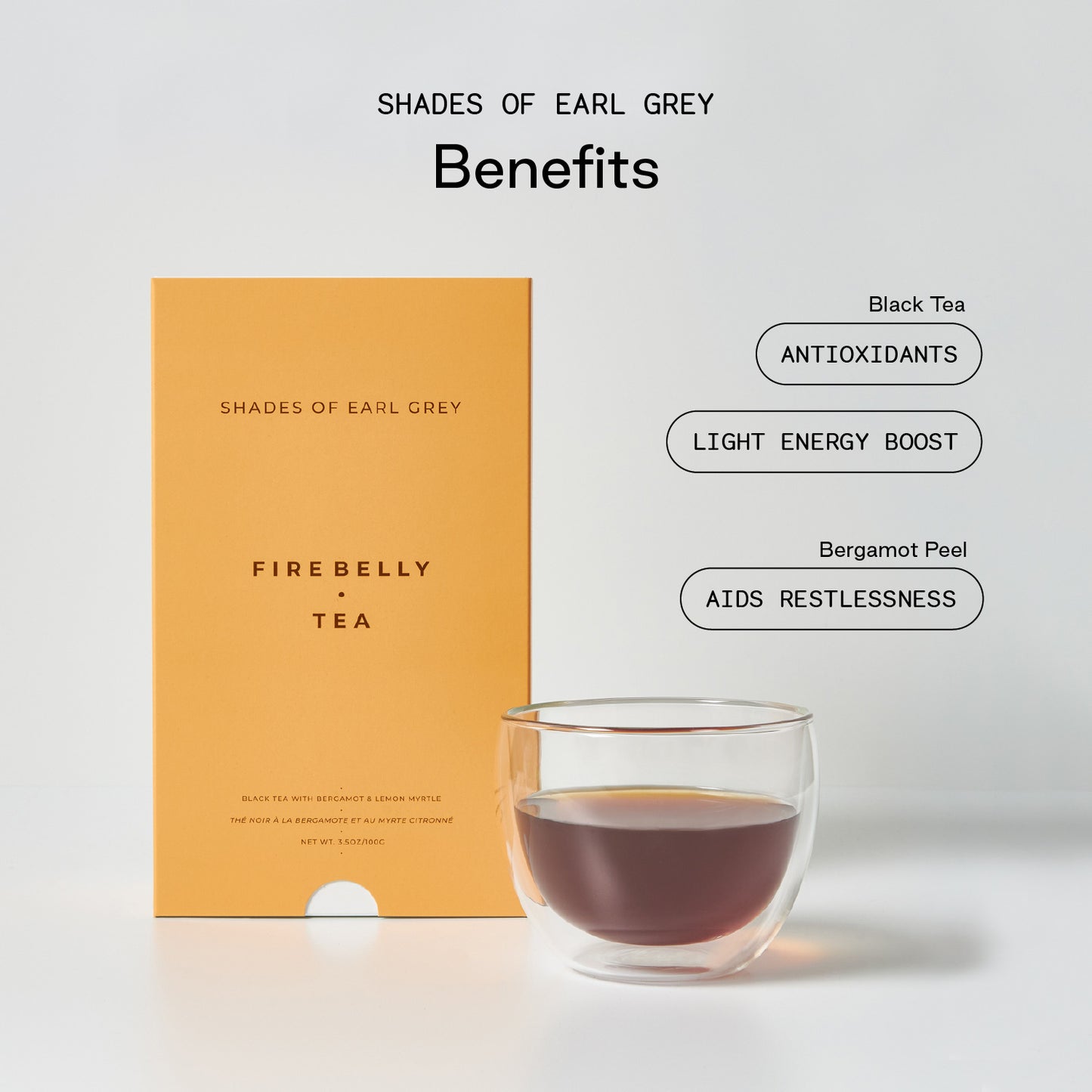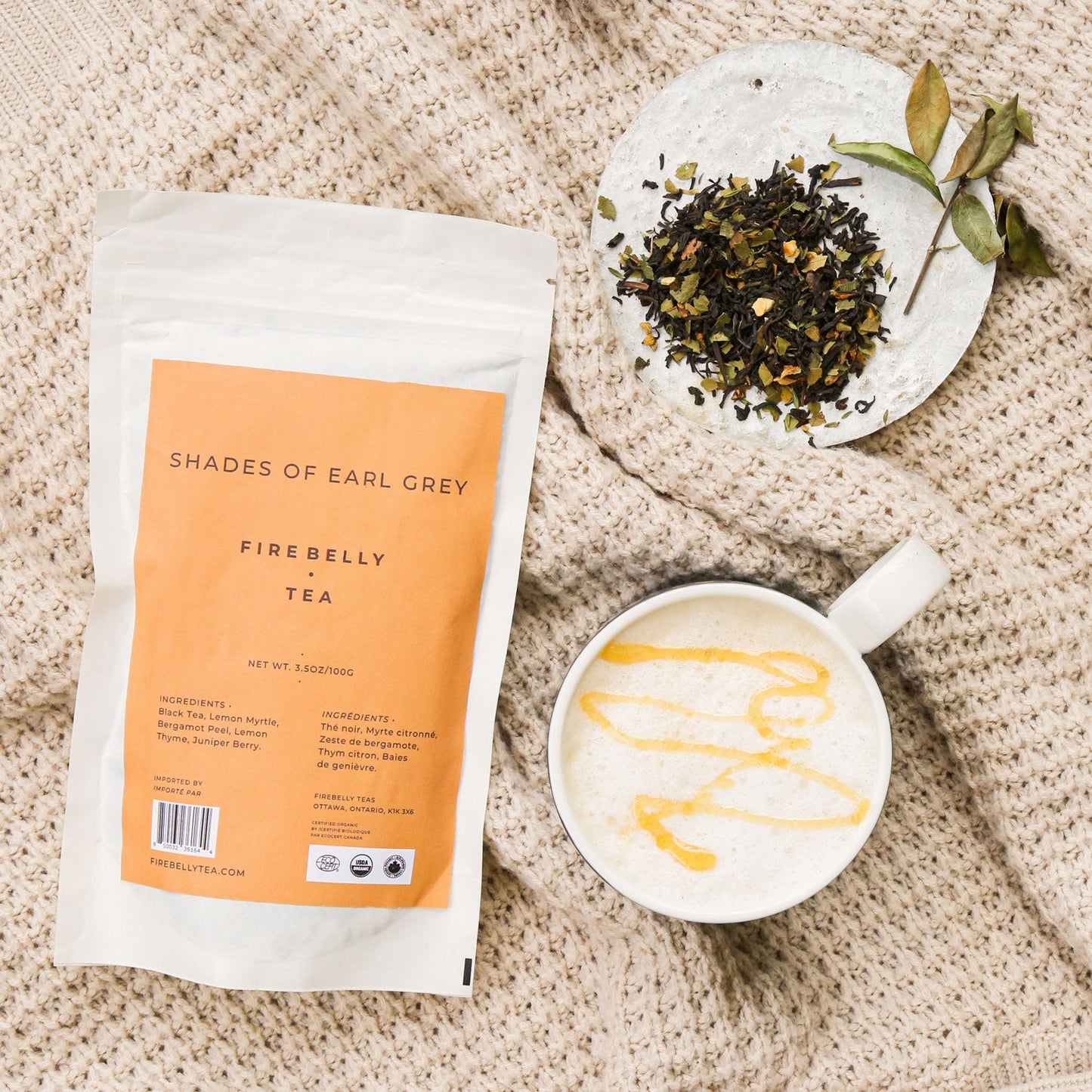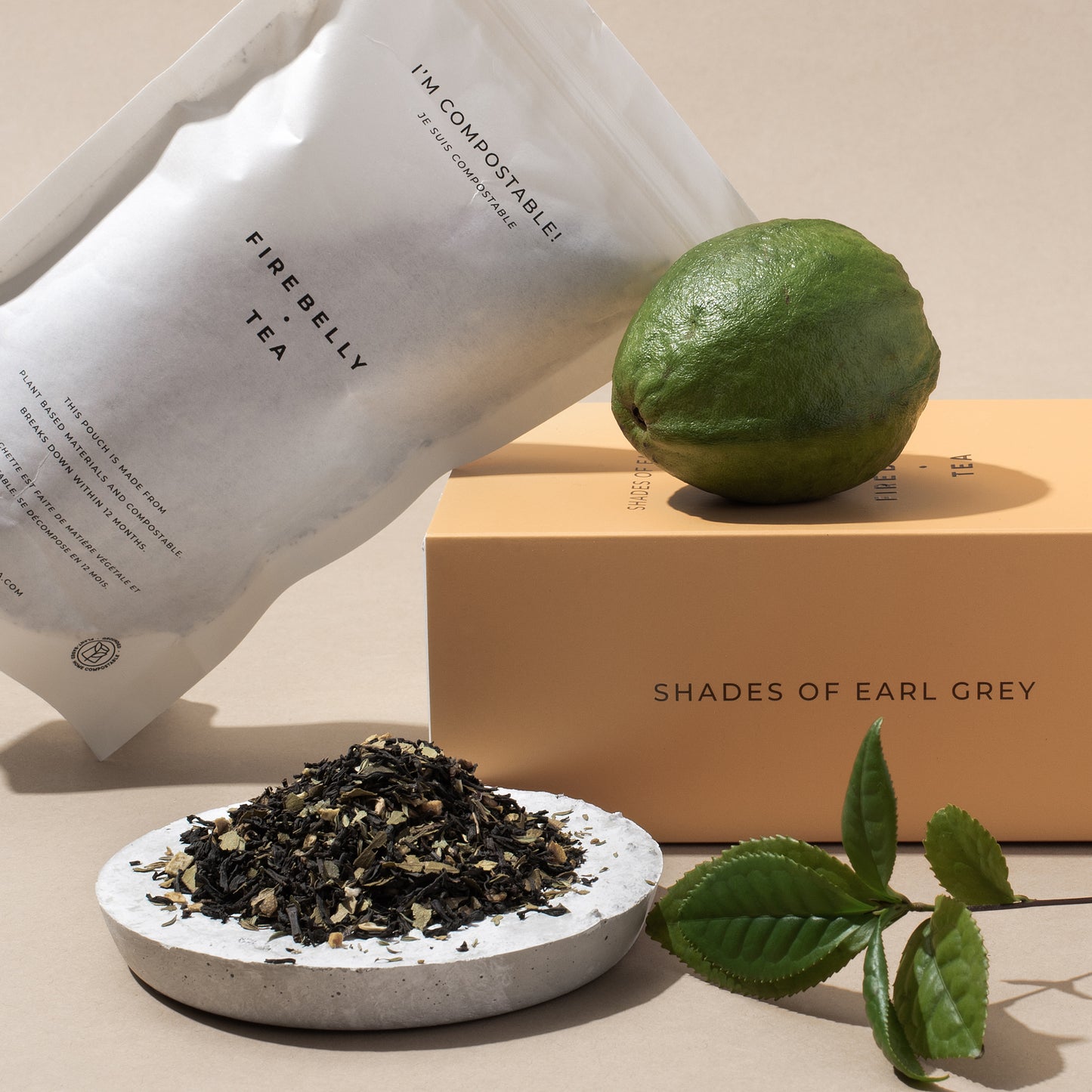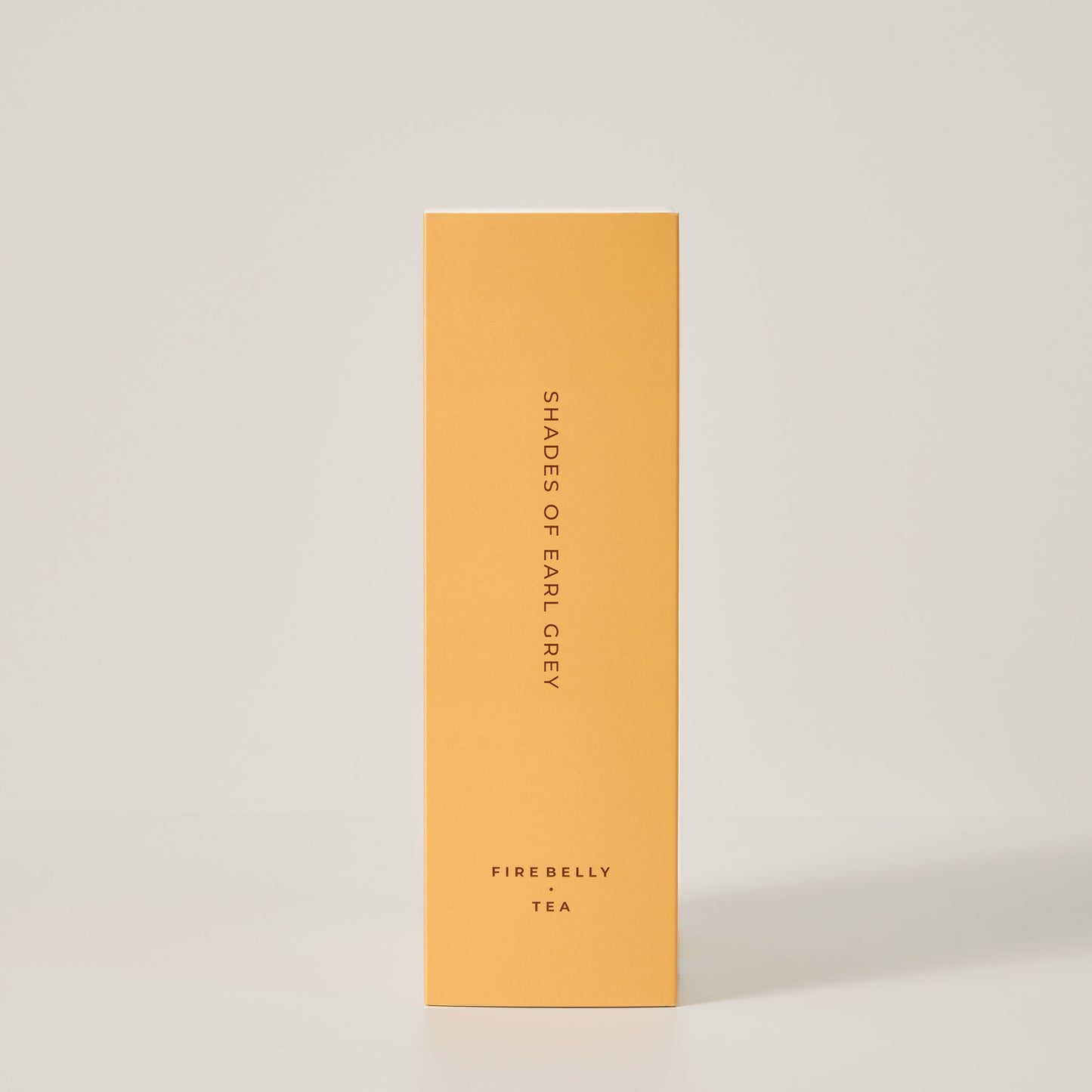 Collapsible content
The Details
It's rare to find an Earl Grey with real bergamot, but we made it happen. Shades of Earl Grey tea uses bergamot peel instead of oil, for a soft but authentic flavor. The perfect hint of lemon and a touch of juniper, all on a smooth black tea base, for an Earl Grey tea to make you forget all others.
INGREDIENTS

Black Tea, Lemon Myrtle, Bergamot Peel, Lemon Thyme, Juniper Berry. | 3.5oz - 100g
BENEFITS

✓ Black tea contains antioxidants, including polyphenols and flavonoids, to help prevent cell damage.
✓ A smoother, more sustained boost of energy without the crash, jitters, or anxiety.
How To Steep

HOT
1. Add 1 tbsp. of Shades of Earl Grey to your Firebelly Tea Strainer.
2. Pour slightly below boiling water (90˚C/195˚F) over your leaves.
3. Steep for 3-5 minutes.
Note: 3 minutes will give you more of the citrus notes; 5 minutes will give you more black tea flavor and caffeine.
4. Remove your strainer and enjoy the perfect cup.

ICED
1. Follow all of the HOT steps but use 2 tbsp. of Shades of Earl Grey.
2. Pour over ice.

LATTE
1. Follow all of the HOT steps but use 2 tbsp. of Shades of Earl Grey.
2. Fill your Firebelly Teacup ¾ of the way.
3. Pour frothed milk over tea.
30-Day Money-Back Guarantee

Feel great about your purchase knowing it's risk-free. If you have any questions or concerns when you receive your order, just contact us within 30 days.
Certified Organic
Sustained Energy
Real Ingredients
Packed With Antioxidants
Compostable Pouch