Eight Books for Every Type of Firebelly Tea Drinker
Eight Books for Every Type of Firebelly Tea Drinker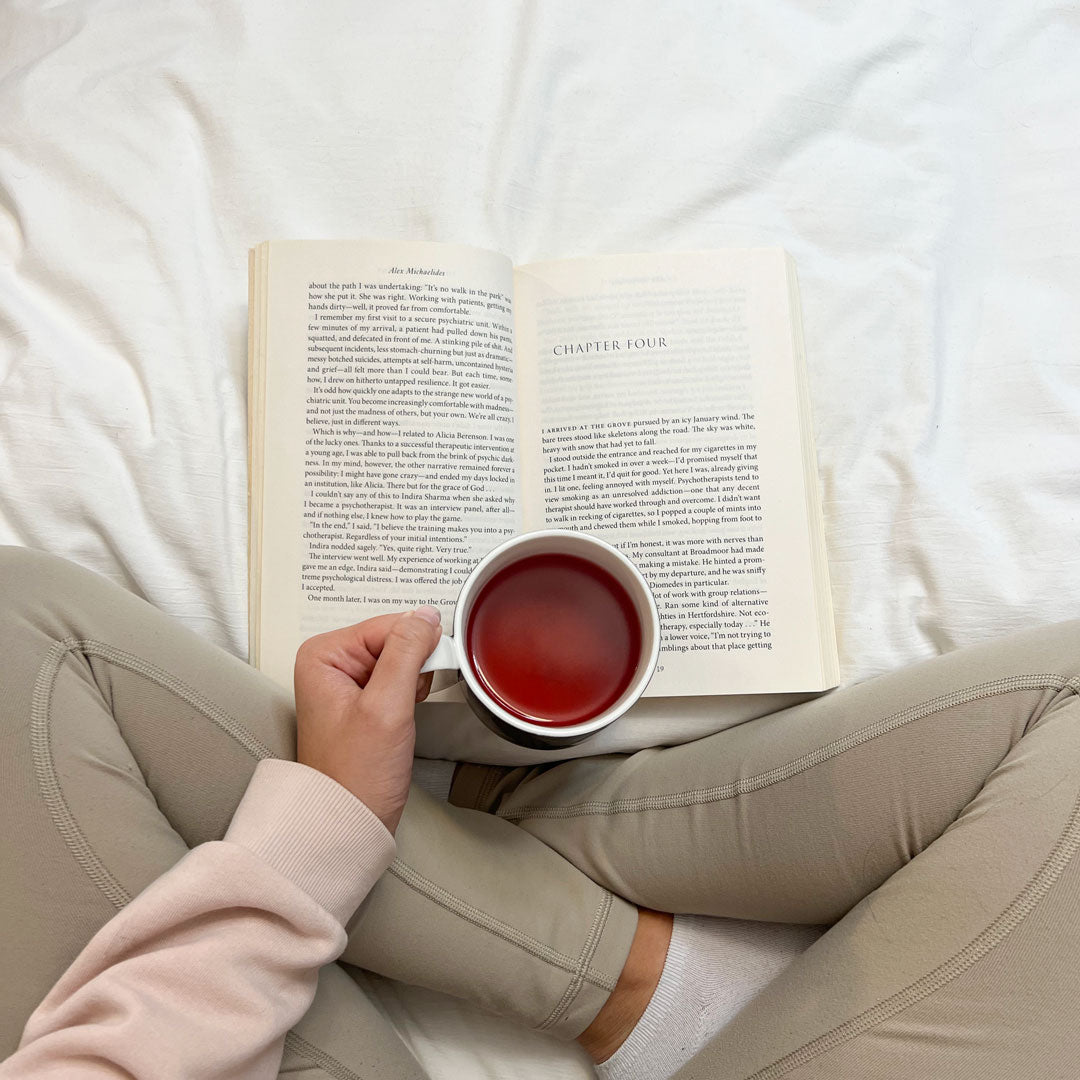 There's nothing quite like curling up with your favourite cup of tea on a cozy morning, afternoon, or evening, ready to shut the outside world out and dive into the world of literature.
Tea and books really are a timeless combination, but with endless options for what to dive into, the choice can be an overwhelming one, so we're making that choice for you; plus the perfect tea to read it with - an easy choice. Here are the eight books we recommend for every type of Firebelly Tea Drinker.
The Candy House, Jennifer Egan
The Candy House opens with the staggeringly brilliant Bix Bouton, whose company, Mandala, is so successful that he is "one of those tech demi-gods with whom we're all on a first-name basis." Bix is 40, with four kids, restless, desperate for a new idea, when he stumbles into a conversation group, mostly Columbia professors, one of whom is experimenting with downloading or "externalizing" memory. It's 2010. Within a decade, Bix's new technology, "Own Your Unconscious," which allows you access to every memory you've ever had, and to share every memory in exchange for access to the memories of others, has seduced multitudes. But not everyone.
In spellbinding interlocking narratives, Egan spins out the consequences of Own Your Unconscious through the lives of multiple characters whose paths intersect over several decades. Intellectually dazzling, The Candy House is also extraordinarily moving, a testament to the tenacity and transcendence of human longing for real connection, love, family, privacy, and redemption. In the world of Egan's spectacular imagination, there are "counters" who track and exploit desires and there are "eluders," those who understand the price of taking a bite of the Candy House. Egan introduces these characters in an astonishing array of narrative styles—from omniscient to first-person plural to a duet of voices, an epistolary chapter, and a chapter of tweets.
Firebelly Tea to enjoy this book with: Big Red
Organic Big Red Robe Oolong Tea. One of China's finest teas, this Oolong tea tastes of wild honey, exotic flowers and warm spices. It's pretty fancy stuff.
Atomic Habits, James Clear
World-renowned habits expert, James Clear, encourages you to create small lasting habits to generate big results. James calls these atomic habits. Throughout the book, James reveals these minuscule changes you can make to your lifestyle, incorporating new and simple habits for a better life, in all aspects.
These atomic habits are all explained and backed up by neuroscience and psychology, further supported by Olympic gold medalists, CEOs, and other successful individuals who incorporate these habits into their daily routine.
If you're looking to make small changes, whether in your business or personal life and want big results, Atomic Habits is the book for you.
Firebelly Tea to enjoy this book with: The Champion
Classic Organic Black Breakfast Tea. This excellent organic black tea from India is the perfect start to any day. We don't mess with perfection.
Atlas of the Heart, Brené Brown
If we want to find the way back to ourselves and one another, we need language and the grounded confidence to both tell our stories and to be stewards of the stories that we hear. In Atlas of the Heart, we explore eighty-seven of the emotions and experiences that define what it means to be human and walk through a new framework for cultivating meaningful connection. This is for the mapmakers and travelers in all of us.
Firebelly Tea to enjoy this book with: A Breath of Fresh Air
Organic Peppermint & Eucalyptus Herbal Infusion. Eucalyptus paired with peppermint to give an extra blast of cool, every bit as refreshing as it is soothing. Serve hot or iced. Caffeine Free.
Talking to Strangers, Malcolm Gladwell
How did Fidel Castro fool the CIA for a generation? Why did Neville Chamberlain think he could trust Adolf Hitler? Why are campus sexual assaults on the rise? Do television sitcoms teach us something about the way we relate to each other that isn't true?
While tackling these questions, Malcolm Gladwell was not solely writing a book for the page. He was also producing for the ear. In the audiobook version of Talking to Strangers, you'll hear the voices of people he interviewed--scientists, criminologists, military psychologists. Court transcripts are brought to life with re-enactments. You actually hear the contentious arrest of Sandra Bland by the side of the road in Texas. As Gladwell revisits the deceptions of Bernie Madoff, the trial of Amanda Knox, and the suicide of Sylvia Plath, you hear directly from many of the players in these real-life tragedies. There's even a theme song - Janelle Monae's "Hell You Talmbout."
Something is very wrong, Gladwell argues, with the tools and strategies we use to make sense of people we don't know. And because we don't know how to talk to strangers, we are inviting conflict and misunderstanding in ways that have a profound effect on our lives and our world. 
Firebelly Tea to enjoy this book with: Zest for Life
Organic Green Tea with Ginger, Lemon Verbena & Chilli. A light green tea made even fresher with ginger and hints of lemony citrus. Did someone say upper?
Crying in H Mart, Michelle Zauner
With humor and heart, she tells of growing up one of the few Asian American kids at her school in Eugene, Oregon; of struggling with her mother's particular, high expectations of her; of a painful adolescence; of treasured months spent in her grandmother's tiny apartment in Seoul, where she and her mother would bond, late at night, over heaping plates of food.
As she grew up, moving to the East Coast for college, finding work in the restaurant industry, and performing gigs with her fledgling band–and meeting the man who would become her husband–her Koreanness began to feel ever more distant, even as she found the life she wanted to live. It was her mother's diagnosis of terminal cancer, when Michelle was twenty-five, that forced a reckoning with her identity and brought her to reclaim the gifts of taste, language, and history her mother had given her.
Vivacious and plainspoken, lyrical and honest, Zauner's voice is as radiantly alive on the page as it is onstage. Rich with intimate anecdotes that will resonate widely, and complete with family photos, Crying in H Mart is a book to cherish, share, and reread.
Firebelly Tea to enjoy this book with: Holy Mao
Mao Jian Green Tea. A top-shelf Chinese green tea that brings a bright, refreshing boost to your day. You can taste the healthy goodness.
The Midnight Library, Matt Haig
Somewhere out beyond the edge of the universe, there is a library that contains an infinite number of books, each one the story of another reality. One tells the story of your life as it is, along with another book for the other life you could have lived if you had made a different choice at any point in your life. While we all wonder how our lives might have been, what if you had the chance to go to the library and see for yourself? Would any of these other lives truly be better?
In The Midnight Library, Matt Haig's enchanting blockbuster novel, Nora Seed finds herself faced with this decision. Faced with the possibility of changing her life for a new one, following a different career, undoing old breakups, realizing her dreams of becoming a glaciologist; she must search within herself as she travels through the Midnight Library to decide what is truly fulfilling in life, and what makes it worth living in the first place.
Firebelly Tea to enjoy this book with: The Crowd Pleaser
Organic Black Tea with Vanilla & Almond. A rich black tea blended with real vanilla pod and a hint of almond. Flavours that everyone loves – this one's a no brainer. 
Lost & Found, Kathryn Schulz
Eighteen months before Kathryn Schulz's beloved father died, she met the woman she would marry. In Lost & Found, she weaves the stories of those relationships into a brilliant exploration of how all our lives are shaped by loss and discovery—from the maddening disappearance of everyday objects to the sweeping devastations of war, pandemic, and natural disaster; from finding new planets to falling in love.
Three very different American families form the heart of Lost & Found: the one that made Schulz's father, a charming, brilliant, absentminded Jewish refugee; the one that made her partner, an equally brilliant farmer's daughter and devout Christian; and the one she herself makes through marriage. But Schulz is also attentive to other, more universal kinds of conjunction: how private happiness can coexist with global catastrophe, how we get irritated with those we adore, how love and loss are themselves unavoidably inseparable. The resulting book is part memoir, part guidebook to living in a world that is simultaneously full of wonder and joy and wretchedness and suffering—a world that always demands both our gratitude and our grief.
A staff writer at The New Yorker and winner of the Pulitzer Prize, Kathryn Schulz writes with curiosity, tenderness, erudition, and wit about our finite yet infinitely complicated lives. Crafted with the emotional clarity of C. S. Lewis and the intellectual force of Susan Sontag, Lost & Found is an uncommon book about common experiences.
Firebelly Tea to enjoy this book with: No Ordinary Joe
Organic Roasted Chicory, Dandelion & Mate Herbal Infusion. Deep, rich roasted chicory and mate, paired with dark cocoa and liquorice for that bittersweet coffee-style experience without the jittery caffeine hands.
Time is a Mother, Ocean Vuong
"How else do we return to ourselves but to fold / The page so it points to the good part."
In this deeply intimate second poetry collection, Ocean Vuong searches for life among the aftershocks of his mother's death, embodying the paradox of sitting within grief while being determined to survive beyond it. Shifting through memory, and in concert with the themes of his novel On Earth We're Briefly Gorgeous, Vuong contends with personal loss, the meaning of family, and the cost of being the product of an American war in America. At once vivid, brave, and propulsive, Vuong's poems circle fragmented lives to find both restoration, as well as the epicenter of the break. 
The author of the critically acclaimed poetry collection Night Sky With Exit Wounds, winner of the 2016 Whiting Award, the 2017 T. S. Eliot Prize, and a 2019 MacArthur fellow, Vuong writes directly to our humanity without losing sight of the current moment. These poems represent a more innovative and daring experimentation with language and form, illuminating how the themes we perennially live in and question are truly inexhaustible. Bold and prescient, and a testament to tenderness in the face of violence, Time Is a Mother is a return and a forging forth all at once.
Firebelly Tea to enjoy this book with: A Good Root
Organic Ginger, Turmeric & Galangal Herbal Infusion. Spicy ginger with exotic turmeric and galangal, making it warming yet refreshing at the same time. Hot or iced, it'll leave you satisfied. Caffeine Free.
To learn more about our teas, and for future recommendations on how to enjoy them, subscribe below.